North Side Sportsmen's Association
Headlines(7/9/2014):
Carry America is holding an event at Northside on July 16. For more information look at the event on the calendar, and look at this flyer: 2014-07-16 – NSSA
Headlines (7/8/2014):
The grounds will be closed Thursday (7/10/2014) until 2pm to enable the final portion of the front entrance maintenance work to be performed.  The restricted access hours, of 8:00 am to 8:00 pm, will resume on Friday. 
~Northside Admin 
Currently Membership is closed.  If you have any questions, please send them to
325 Mt. Pleasant Road
Warrendale, PA 15086
North Side Sportmen's Association is located in Northern Allegheny County on the border of Butler County. The Association maintains 200 rolling acres, open to members for hunting of deer, turkey, small game and shooting trap, skeet, indoor & outdoor archery, 3D, running deer, pistol, long & short range rifle, black powder, shotgun sabots and other outdoor sportsmen activities.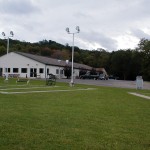 Note: This site is currently being updated.  Please feel free to look around, but understand that not all content is currently available.  We will be updating the site frequently, so please be patient and check back often.
If you have any questions, please send an email to .
~North Side Sportsmen's Association Web Development Team