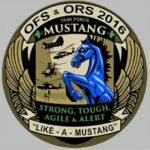 NSSA is collecting items for soldiers currently stationed in Afghanistan. Please show your support and bring a few things to support our troops. Collection bins are in the clubhouse. The list of items they are in need of are below:
​

Soap

Shaving Cream

Shampoo

Toothpaste

Toothbrushes

Granola

Nuts

Sunflower Seeds

Dried Fruit

Hard Candies

Flavored Water Packets

K Cups (For Keurig Coffee Machines)Current

Magazines (Hunting, Sports, Cars, Mechanics)
We will be sending the items to a multi-functional Army Aviation Task Force based out of Fort Carson, CO and part of the 4th Infantry division. Their unit call sign is "Mustang", named after the famed blue statue at Denver International Airport. Their unit is comprised of AH-64 Apache Attack Helicopters, UH-60 Blackhawk Air Ambulances, UH-60 Command Aircraft, UH-60 Air Assault Helicopters, and CH-47 Heavy Cargo Helicopters. They support a wide range of operations in Afghanistan and are the largest Aviation task force in theater currently. The brother of a fellow member is part of this unit and is currently stationed there.