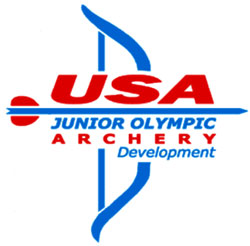 Junior Olympic Archery Development is a program of USA Archery that provides young people great opportunities for awarding achievement, and helps archers to enjoy the sport recreational setting  or progress to the excitement of competition!
JOAD offers both recurve and compound archers the opportunity to learn range safety and proper shooting technique in an environment that also fosters focus, increased self-confidence, and team building skills. JOAD is open to any youth archer aged 10 to 20 and is designed to grow with the youth archer. Introductory JOAD classes teach the fundamentals of proper shooting form; as the young archer develops, they will learn more advanced techniques.
The JOAD program runs from October through April. Registration is accepted in the month of August. Practice is held Sundays from 2pm – 5pm.
Tournaments are scheduled throughout the season at various archery clubs around western PA.
Ron and Linda Roth and Jeff Falconer are all certified Archery Instructors. They work closely with the JOAD archers to improve their shooting techniques.
For more information on JOAD, please contact Ron or Linda Roth at joad@northsidesportsmen.com
There are no upcoming events to display at this time.