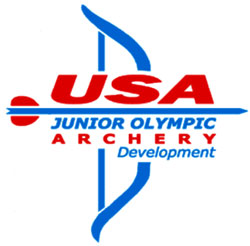 Junior Olympic Archery Development is a program of USA Archery that provides young people great opportunities for awarding achievement, and helps archers to enjoy the sport recreational setting  or progress to the excitement of competition!
JOAD offers both recurve and compound archers the opportunity to learn range safety and proper shooting technique in an environment that also fosters focus, increased self-confidence, and team building skills.
JOAD (Junior Olympic Archery Development) is not just an archery class.
It is a youth archery program where the children are taught safety, proper form, etiquette on the shooting line, respect and how to keep score, so that by December they are
ready to compete locally, state and possibly nationally.
NSSA's JOAD is an archery program for children from 10 to 20 years of age. They must be 10 by Aug. 1st.
JOAD usually runs from October to the first week of April.
Practices are held Sundays from 2 to 5.
Tournaments start in December and go until April. Most of them are on Saturdays, but
there are a few times when they may be able to shoot the tournament on a Friday or a Sunday.
They will be evaluated after several weeks and a determination will be made on whether
they can continue in the JOAD program. Some of the determining factors are CONDUCT,
ATTENDANCE, PARTICIPATION & EQUIPMENT
We suggest that if you are interested in the program and you DO NOT have equipment.
PLEASE DO NOT go out and buy anything.
Most sporting good stores are geared toward hunting, not for target shooting. We do
have recurve equipment that we will fit you with or if you are interested in compound
equipment, we will be able to recommend some bows that will fit them properly.
IT IS VERY IMPORTANT THAT THEY ARE FITTED WITH THE RIGHT EQUIPMENT!!!
We usually have an orientation in August/September before JOAD starts up.
This is when we get the kids set up with the right equipment. Whether it is checking out
their equipment or setting them up with ours.
The tournaments start in December and they are $12 for each tournament.
(IT ALL DEPENDS ON HOW MANY OPENINGS WE WILL HAVE FOR EACH NEW
SEASON. IF INTERESTED YOU MAY CONTACT joad@northsidesportsmen NO EARLIER THAN AUGUST 1ST.)
Ron and Linda Roth and Jeff Falconer are all certified Archery Instructors. They work closely with the JOAD archers to improve their shooting techniques.
For more information on JOAD, please contact Ron or Linda Roth at joad@northsidesportsmen.com